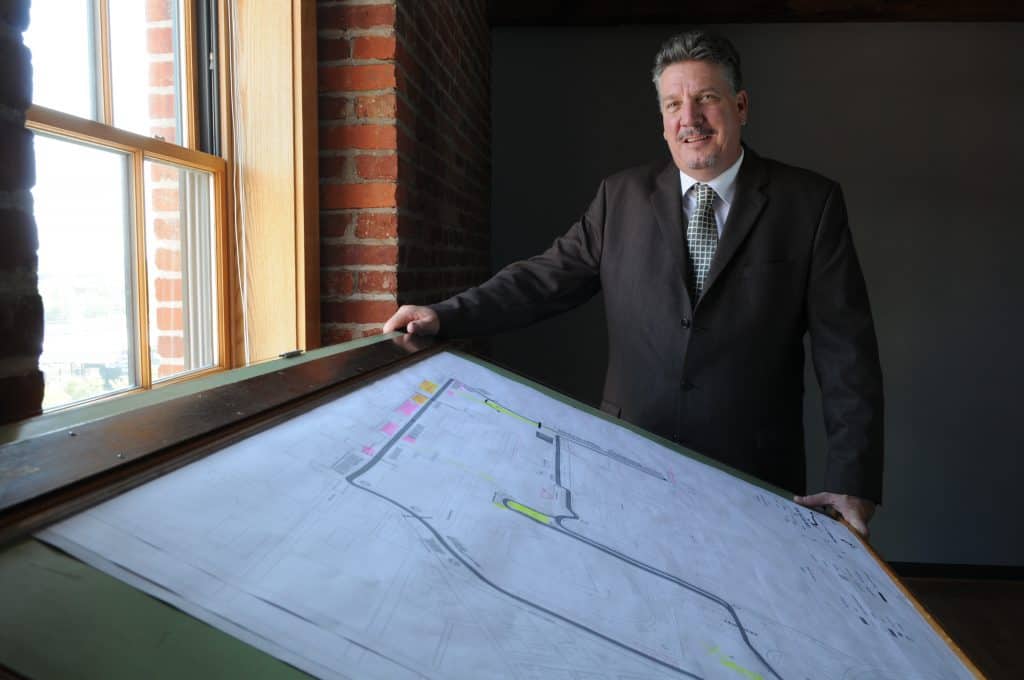 MCS is based in Tucson, Arizona, but in actuality operates out of temporary headquarters at racetracks and production sets around the world where projects are in progress.
With a broad range of associates called in for their particular expertise to manage specific aspects of a project from construction management to event planning, MCS is led by company principal Martyn Thake.
Thake has over 30 years of professional motorsports experience and has performed hundreds of track inspections, designs and redesigns for CART / Champ Car, IMSA / ALMS and for the Sports Car Club of America (SCCA), all members of ACCUS and affiliates of the Federation Internationale de l'Automobile (FIA) as well as insurance companies and independent clients from around the world. His vast experience ranges from event promoter to insurance and risk management inspector as well as a facility and track designer. He was a member of the Horton / CART / Indycar Safety Team and spent five years as the CEO of a race car manufacturer.
Our newest venture was as course designer and safety coordinator for the Netflix series Hyperdrive. "Hyperdrive had an amazing safety record – not a single incident despite the high potential for serious injury."
Recent projects include; design review / modification and safety system design for the all new Palm Beach International Raceway in Florida, circuit design and construction supervision for the new "Competition" circuit at Brainerd International Raceway and Resort in Minnesota, a redesign and upgrade to Pueblo Motorsports Park In Colorado, design review and revision for Palmer Motorsports Park In Palmer Massachusetts and the track design for the new M1 Concourse in Pontiac Michigan. And the design and construction of 9 tracks for the Netflix show Hyperdrive.
MCS was responsible for overall project management, construction management, and event operations, logistics and management for the Baltimore Grand Prix, the Grand Prix of Houston, the Grand Prix of Cleveland, the Grand Prix of Miami, the Grand Prix of Puerto Rico as well as for the Grand Prix of Denver.
Thake served as Director of Circuit Development for CART and Champcar (02-06) and is an FIA track inspector, currently serving as the back-up inspector for FIA-licensed tracks (Grade 2 or higher).
Thake is a founding board member of the new Motorsports Safety Foundation. MSF is a non-profit organization dedicated to improving safety standards in motorsport. For more information about the foundation, please check their website at MSF.
In December of 2016 Thake was selected as the Track Designer and the Safety Coordinator for a new type of television show about cars…it was described as "American Ninja Warrior for Cars". After 2 years of location scouts and design work, in August of 2018 we shot the first season of Hyperdrive (for Netflix) at a Kodak Eastman plant in Rochester NY.
MCS recently signed an agreement to design 2 new FIA level 3 facilities in China. A racetrack in Hubei and a motorsport theme park In Zhengzhou. Site surveys have been completed and the designs are being developed.
MCS recently completed work on a unique project directed at car and motorcycle collectors, the M1 Concourse in Pontiac, Michigan. We were tasked with the design of a track to be Integrated Into the overall facility layout that can be used to test and tune collector cars and motorcycles. M1 Concourse is located on Woodward Avenue, America's first highway (M1) and the location of the world 's biggest car celebration, the Woodward Dream Cruise. More information on the M1 Concourse project can be found on their website – M1 Concourse
In 2010 MCS was retained to design the Miami, Florida course for the FIA Formula E Championship – the world's first fully electric racing series. Five alternate track designs were submitted. The design selected was used when the Formula E series raced on the streets of Miami in March of 2015.
In 2012 MCS was selected as the Operations and Logistics vendor for the new Shell & Pennzoil Grand Prix of Houston. The challenge was to build a complete temporary FIA approved lndycar race facility on the grounds of NRG Park (formerly Reliant Park) in 4 days (typically It takes 6 weeks to build and 2 weeks to dismantle a street race). Following an afternoon home game on Sunday September 29, 2013, we were given the site at 6PM. Cars were on track and the facility was complete and open to the public at 8AM on Friday October 5th. After the race, the site was completely cleared and returned to the Texans in 5 days. Thankfully the 2014 race was scheduled outside the football season!
Also, in 2012 MCS was asked to coordinate installation of a temporary pedestrian bridge for the Shell Eco Marathon In downtown Houston. Since then we have added rigging and steel erection to our list of services. We have successfully Installed bridges for the Eco Marathon and Grand Prix of Houston events in 2014 and 2014, and the Houston Livestock Show & Rodeo in 2016. Since 2012 MCS has been the company of choice for the erection of Quick Bridges. Currently we are working on plans for projects in Canada, and several locations and events in the US. For more Information on the temporary pedestrian bridges, check out the tab at the top of this page.
In 2008 MCS was commissioned to design the facility and track for an lndycar race on the streets of Baltimore, the inaugural event took place over Labor Day weekend in 2011. The first new street race since the amalgamation of open wheel racing In the U.S. We provided Operations Department staff and services, as well as Event Management services for the Baltimore Grand Prix. The event was considered to be a resounding operational success.
MCS was tasked with designing temporary street tracks for the (Las) Vegas Grand Prix and the Arizona Grand Prix. The process began in 2004 and took 2 years of planning review and redesign, until designs that were acceptable to both city governments were signed off on. The inaugural Vegas Grand Prix took place in 2007, the Arizona Grand Prix, unfortunately, did not happen. But the design is still available!
Thake was an Instructor at the Brainerd International Raceway Performance Driving School. His experience includes the famed Brands Hatch Racing School and Aston Martin's Elite Performance Driving Academy.
Thake is an active member of both NFPA and SAE.
Thake offers professional expert testimony In many areas of motorsports. For more Information on our Expert Witness services, please click on the Expert Witness the tab at the top of the page.
Currently MCS is active in the development of multiple projects around the world.