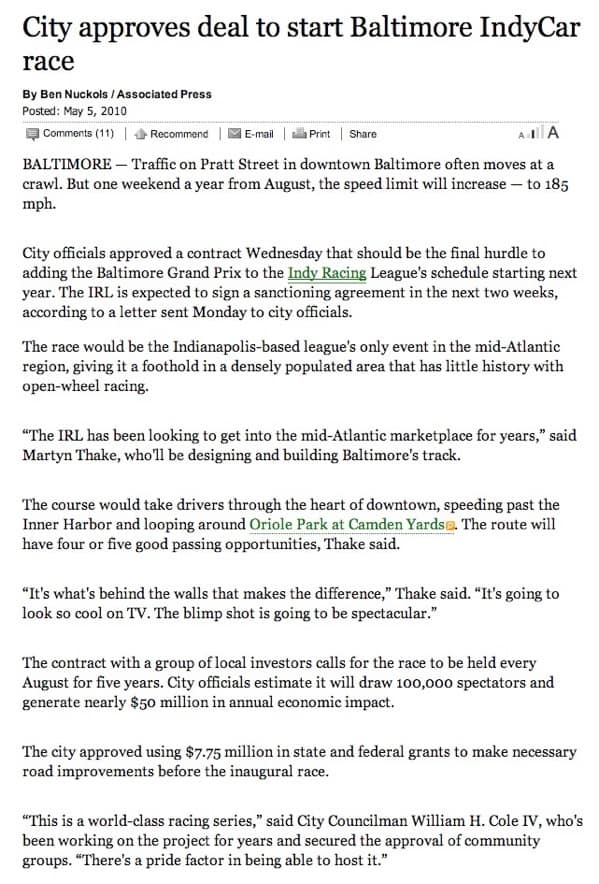 ---
By BEN NUCKOLS, Associated Press Writer
May 5, 1:31 pm EDT
Traffic on Pratt Street in downtown Baltimore often moves at a crawl. But one weekend a year from August, the speed limit will increase—to 185 mph.
City officials approved a contract Wednesday that should be the final hurdle to adding the Baltimore Grand Prix to the Indy Racing League's schedule starting next year. The IRL is expected to sign a sanctioning agreement in the next two weeks, according to a letter sent Monday to city officials.
The race would be the Indianapolis-based league's only event in the mid-Atlantic region, giving it a foothold in a densely populated area that has little history with open-wheel racing.
"The IRL has been looking to get into the mid-Atlantic marketplace for years," said Martyn Thake, who'll be designing and building Baltimore's track.
The course would take drivers through the heart of downtown, speeding past the Inner Harbor and looping around Oriole Park at Camden Yards. The route will have four or five good passing opportunities, Thake said.
"It's what's behind the walls that makes the difference," Thake said. "It's going to look so cool on TV. The blimp shot is going to be spectacular."
The contract with a group of local investors calls for the race to be held every August for five years. City officials estimate it will draw 100,000 spectators and generate nearly $50 million in annual economic impact.
The city approved using $7.75 million in state and federal grants to make necessary road improvements before the inaugural race.
"This is a world-class racing series," said City Councilman William H. Cole IV, who's been working on the project for years and secured the approval of community groups. "There's a pride factor in being able to host it."