USA TODAY, By Jenny Cohen. August 21, 2019
Blend race-car drivers with an "American Ninja Warrior"-style obstacle course and you'll come up with a new Netflix series packed with horsepower.
"Hyperdrive," now streaming, features drivers from around the world testing their skills and putting their own cars through a series of challenges, including a six-story-tall contraption called the Leveler. Actress and car enthusiast Charlize Theron is an executive producer of the series.
"It was really cool actually seeing her get into the cars with some of the competitors, especially because some of those cars she got into were maybe not even vehicles I would get into," says 28-year-old "Hyperdrive" competitor Brittany Williams. "There was definitely a level of respect for her after that."
Williams, from Lewisville,Texas, is one of 28 drivers facing off on a course in Rochester, New York. She's a drifter who competes on the Lone Star Drift Pro-am circuit in Texas and off roads in Jeeps with her husband, Kevin, documenting their adventures on her Instagram or the couple's YouTube channel.
She was also in the dark about what to expect when she agreed to take on the "Hyperdrive" circuit. Producers were vague when describing the series to drivers, including the obstacles they would face.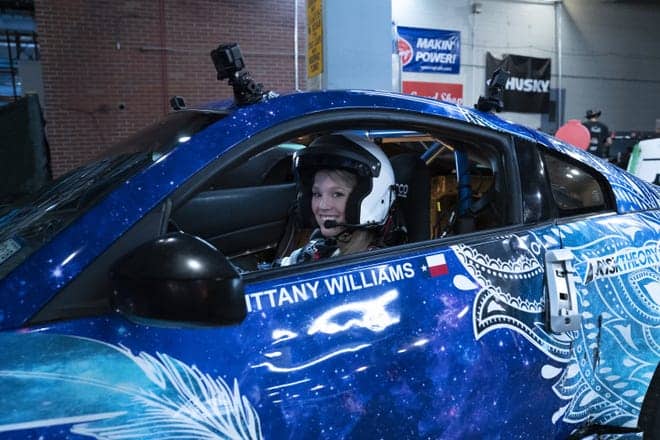 "You really had no idea what to expect," she says. "So there was no way to prepare, not just your car for the course or the obstacles, but to prepare yourself."
Going in blind also meant Williams didn't know how her Nissan 350Z would hold up against the competition. She describes her car as "a pretty typical drift car" and uses it when she's competing on the drifting circuit. Other drivers from countries including Japan, Brazil and Germany took on the course in their own modified BMWs, Mazdas and even a Lamborghini.
"My car is pretty slow compared to most competition-based race cars, so that was one of my biggest worries going into the series," she says. "I wasn't sure that power was going to be a really big issue for me."
Eliminations are based on speed and how fast it takes competitors to get through a series of obstacles that test drivers' drifting and racing skills, all for bragging rights and a trophy. Just like "Ninja Warrior," drivers with the slowest times get knocked out until a winner is crowned. The course tests their ability to plow through a tank of standing water without stalling out or showing off how precise their drifting skills are by hitting targets with the tail ends of their cars.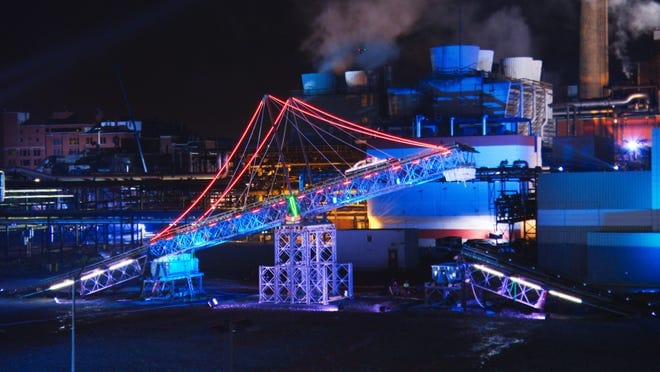 And then there's the Leveler, in which cars drive up a steep incline and wait for the other end to descend so they can drive off to finish the course. Think of it as a large teeter totter for a car.
After all the eliminations, the winner gets bragging rights as the best driver on the "Hyperdrive" circuit and a trophy designed to look like the launch gates at the starting line of the course.
The 10-episode series is hosted by former MMA fighter Michael Bisping, Rutledge Wood of "Top Gear USA," and sports reporters Lindsay Czarniak and Mike Hill.