By ANDY VUONG | The Denver Post
PUBLISHED: December 4, 2006 at 1:57 p.m. | UPDATED: May 8, 2016 at 1:37 a.m.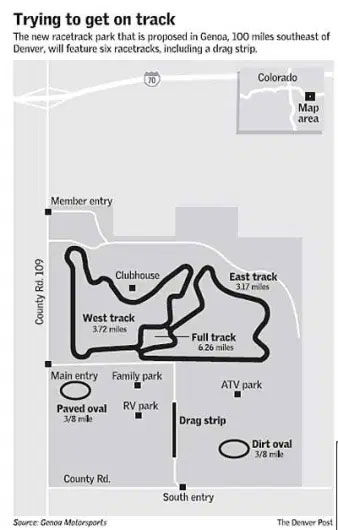 The design team behind the Grand Prix of Denver racetrack has been hired to work on a planned private, membership- based track in Genoa, about 100 miles southeast of Denver.
Crested Butte-based Motorsports Consulting Services will design the Genoa Motorsports Park site, which sits on 2,700 acres. The site will feature a 6.26-mile road course with two separate circuits that each have 100-foot elevation changes. The site is also slated to include a 3/8- mile paved oval track, a 3/8-mile dirt oval track and a 1/8-mile and 1/4-mile drag strip.
The size and elevation changes of the main road course would make the park unique, said Martyn Thake, owner of Motorsports Consulting, which has also worked on Grand Prix racetracks in Las Vegas, Houston and Phoenix.
"It's large; it's got water on the site and the ability to do everything we want to do with it," said Thake. "It really is a very unique site."
The park will also have garages and private areas for members. The site might also include on-site lodging.
Members would pay an annual fee to use the park's track and other amenities.
Workers are expected to break ground this spring, and the track could open by the spring of 2008, said Kevin Rogers, one of the principals behind the project.
Rogers declined to disclose the project's estimated price tag. He said he is working on securing financing.
"Nothing is solidified at this point," Rogers said, adding that the project is "very real."
Another membership-based track is planned for the old Pikes Peak International Raceway site, near Fountain. International Speedway Corp. has the property under contract to a local entrepreneur who hopes to put multiple road courses, garages for race cars, a golf course and a residential development on the 1,200-acre site.